Best Mountaineering Boots
Best Mountaineering Boots
How do I choose the right mountain boots?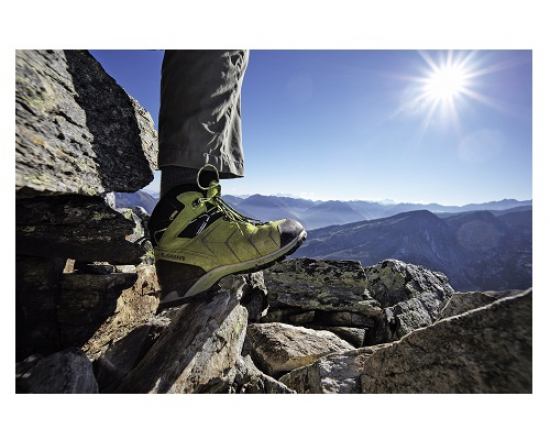 1. Buying mountain shoes that are suitable for your adventures
Are you planning to go on any difficult, intense treks? Then you need to choose a boot that is suitable for your planned activities. There are different types of mountain boots for each activity, which you'll find out more about below.

2. A good fit is essential
Try a diverse range of shoes and compare them. It's recommended that you try shoes on in the afternoon, not in the morning, as your feet expand as the day goes on. Also make sure that your boots fit when you have thicker walking socks on. For these reasons, and also because your feet expand as you walk, it is advised that you try one size up from your normal size.

3. Make sure there is enough ankle support
Most mountaineering boots have a taller shaft, which is great if you suffer from weaker ankles or if you will be walking on very challenging terrain. Low-model walking boots are great for flat terrain or paved paths, but if you're planning mountain trips, then you will need a taller boot.

4. Material choice is important
Are you planning on going on a trek in the mountains for a longer period of time? Then make sure that you choose a very sturdy material, such as leather. It is also important that the material is breathable and waterproof, because the last thing you'll want is wet feet.

5. Be prepared
Preparation is a vital part of buying mountaineering boots. In order to prepare yourself and equip yourself with all necessary knowledge, read on below to find our advice, tips, and recommendations!
Categories
Which boot category are mountain boots in?
For mountain boots, the same categories are used as for walking boots. However, the boots that are suitable for mountain climbing start in category B. Choosing boots from this category onward ensure that the boots will be strong enough and offer enough support for your feet and ankles. To help you choose which category you need for your trip, we have created an overview of the boots that you'll find in each category, so you can better determine which ones to look for.
What are you using the shoes for?
Trekking
If you are planning to go on trips in mildly hilly or mountainous terrain (possibly with light equipment), it is best to opt for category B mountain shoes. Category B shoes are very suitable for because they are water-resistant, slightly breathable, and also offer excellent support to the foot and ankles. The sole and materials of a category B boot are less stiff and rigid than is required of a shoe from a heavier category, which ensures a bit more comfort. While this might mean that fewer shocks are absorbed, on flatter terrain there will be fewer shocks to absorb. Mountain boots from the brands Jack Wolfskin, The North Face, LOWA, and Salomon are very suitable for trekking.

+Category B boots are more suitable+Lightweight, flexible shoes with ankle support-Category C or D boots would be too heavy and rigid for trekking on flatter terrain
Backpacking
If you are planning to go on more intense, multi-day mountain treks or hut treks, or if you are planning a long journey with a heavy backpack, it is best to opt for shoes from the B / C, C, and D categories. The shoes in these categories have a stiff sole, are made from stiffer leather, and are often suitable for attaching crampons to, allowing you to ice-climb. Planning a more challenging or difficult trip? Then choose a technical shoe with wear-resistant materials and many functional properties. Hanwag, LOWA, and Grisport have developed very suitable mountain boots for backpacking.

+Category B/C, C, and D boots are more suitable+Boots with great stability and ankle support+Choose boots to which crampons can be attached-Category B boots won't offer quite enough support
What else is important?
Waterproofing
If you go hiking in the (snowy) mountains or in rainy areas, it is of course important that you choose a mountain boot that is fully waterproof. Wet feet are a sure-fire way of getting blisters more quickly and it also feels very uncomfortable. To guarantee absolute water-tightness, it is wise to purchase mountain boots that have a GORE-TEX® membrane.

GORE-TEX®
A GORE-TEX® membrane is an extremely thin, water-repellent or waterproof layer. This layer has the added advantages that it is also highly breathable, so it can drain water properly, and fully windproof. Do you often walk through wet grass, mud, puddles, soft snow, or do you ever cross streams? Then we advise you to opt for a boot with GORE-TEX® incorporated. You can see whether a mountain boot is fitted with a GORE-TEX® membrane because it is indicated in the product description or because it is mentioned in the title as 'GTX'. 'GTX' shoes on Outdoorsupply are always provided with the GORE-TEX® membrane.
Maintenance
Mountain boots are generally quite expensive, due to their quality features, and therefore it is of course important to maintain their good quality for as long as possible. You can do this by regularly taking care of the boots and cleaning them. By maintaining your boots well, they remain comfortable, flexible, and water-repellent. Even boots with a GORE-TEX® membrane require regular treatment with shoe care products.

Leather boots can best be cleaned with lukewarm water and a cloth or with a special leather care product. Always make sure that you impregnate the shoes again after cleaning. This ensures that the shoes remain waterproof and dirt-repellent. After cleaning, it is important that you let the boots dry properly. This can take up to 24 hours. Note: never leave your leather shoes to dry next to a heat source such as a fireplace or radiator, instead place them in a well-ventilated room at room temperature. Follow the link below to find products that can help you with the maintenance of your mountain boots.
Men's or Women's?
A selection of our mountain boots: