HANWAG Brand
HANWAG Brand
HANWAG

HANWAG: Innovation from tradition
Since 1921, HANWAG has been a leading player in the field of high quality hiking and mountain shoes. The company originated in Vierkirchen, a town near Munich, where the company still produces its products today. Contrary to what many people think, the name HANWAG is not oriental, but is derived from the founder, Hans Wagner. HANWAG's shoes are characterised by the exceptional quality of their shoes and therefore incredibly popular with outdoor enthusiasts worldwide. Their particularly good fit, durability and quality materials define a HANWAG shoe.

Click here to see our complete HANWAG collection.
What types of HANWAG shoe can you choose from?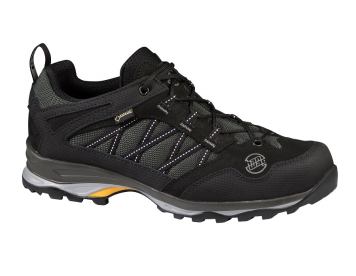 Category A
Category A hiking shoes from HANWAG are mainly lower models that feel lightweight and supple on your feet. The shoes are particularly suitable for city trips or for use on flat or slightly hilly terrain. You can also wear these shoes when you are looking for extra support during your day-to-day activities.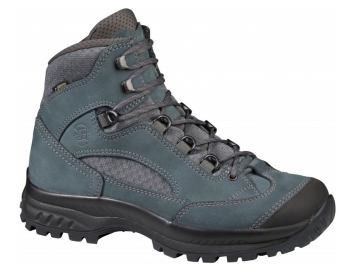 Category A/B
HANWAG has a great collection of hiking shoes from the A / B category. This means that the shoes are very suitable to wear during long distance hikes or on hilly terrain. HANWAG has both high model low models within their category A / B walking shoe range. Have a look via the button below.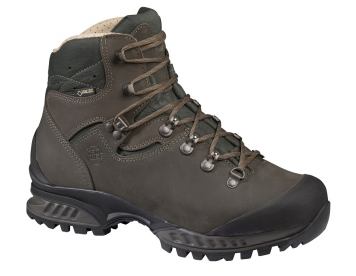 Category B
HANWAG has a wide collection of hiking and mountain shoes in category B. These sturdy shoes are suitable for multi-day mountain tours with more luggage. The shoes offer support at the ankles and are equipped with a sturdy, firm-grip sole. HANWAG category B shoes are less suitable to wear on flat terrain.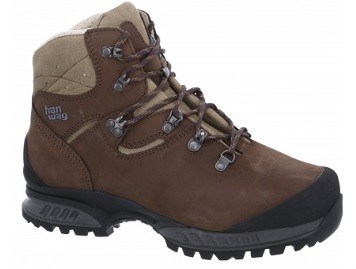 Category B/C
Walking shoes in category B/C are relatively stiffer models, and therefore offer a lot of support, particularly for your ankle. HANWAG boots in category B/C are more unyielding are therefore suitable for more heavy-duty hiking on more challenging terrain, or hiking when you are carrying a heavy backpack.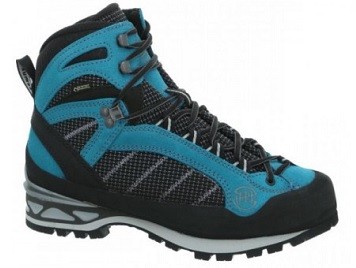 Category C
If you're planning a longer trekking journey with heavy luggage, then you should look at HANWAG's category C walking boots. The shoes offer some flexibility, but are stiffer still than B/C, so they are also suitable for some alpine tours. You can normally also attach crampons to category C HANWAG boots.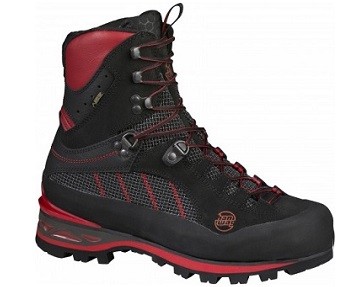 Category D
The most heavy-duty boots in HANWAG's brilliant assortment fall under category D. HANWAG category D boots are suitable for challenging alpine and glacial routes and high mountain passes. The sole is the stiffest you will find, which offers grip and support, and offer the option of attaching crampons.
Durability
HANWAG strives to produce high-quality shoes that will last for years. This not only saves on resources, but is also better for the environment. The materials used for their hiking boots are carefully chosen and they work as much as possible with locally produced and environmentally friendly products.

Terracare Zero Leather and Bio Leather
Approximately 20 models of hiking shoes from HANWAG are made from the CO2-neutral Terracare Zero Leather. This is leather that is produced according to strict environmental and social requirements. HANWAG also has 3 models of hiking shoes that are produced with organic leather as the upper material. This means that the leather comes from cattle that live on certified organic farms. These cattle live in a meadow all year round and only receive food without chemical supplements.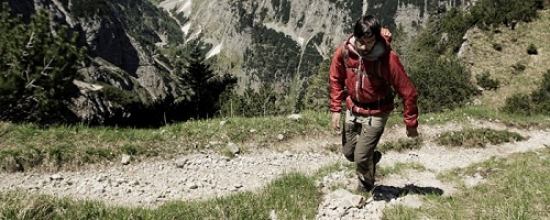 4 steps to the ideal HANWAG hiking shoe
1) The right shoe
The right shoe for the right activity.
Not every walking shoe is suitable for every activity. Therefore, consider well in advance what you want to use the hiking shoe for. Are you looking for walking boots for walks in the woods or a mountain shoe for a multi-day trek? Also take into account how much luggage you are going to take with you.
2) The right size
Provide your feet with sufficient space.
It is important that your walking boots or shoes fit comfortably without them pressing on certain points of your foot. Make sure that your toes have enough space, while ensuring the heel is secure. There should be around a thumb width of space at the toes. Therefore, always try half a size bigger to be sure.
3)The right fitting
The best fit for every foot.
The sizing of the shoe largely determines the fit of the shoe. If the shape of the shoe does not match that of your foot, the shoe will never fit properly. HANWAG matches its widths well to the type of shoe and also has special fits for people with wide or narrow feet or people with a tilting big toe.
4) The right feel
Take your time.
A good fit is very important, so take your time while fitting the shoe. It is wise to fit the shoes during the afternoon, given that your feet will swell slightly throughout the day. This also happens during a walking tour. Be sure to try the shoes on with your walking socks and any special insoles.
HANWAG Fittings
The unique shape of a shoe is almost always determined by the shape and width. If the shape of a shoe does not match the shape of your foot, the shoe will never fit properly. Because of course not every foot has the same shape, HANWAG has brought a number of special shoe fittings onto the market, which ensure that everyone can get the perfect walking boots and shoes for them. Below you can read more about the special HANWAG shoes for wide feet, narrow feet, or feet with a Hallux Valgus.
HANWAG Wide Fit


The HANWAG Wide Fit shoes are perfect for people for whom a standard shoe model is too narrow in the front. This fitting offers more space at the forefoot, so you no longer suffer from annoying pressure points. The heel of a Wide fit shoe has a normal width, it is only the space at the forefoot that is widened.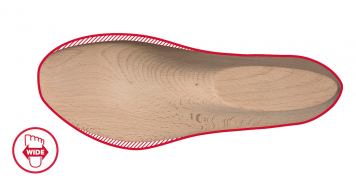 HANWAG Narrow Fit


HANWAG Narrow Fit walking boots and walking shoes are suitable for all people with narrow feet. This type of shoe is suitable for both men and women for whom a walking shoe with a standard design is too wide. The narrower width of the Narrow Fit models offers better grip and stability.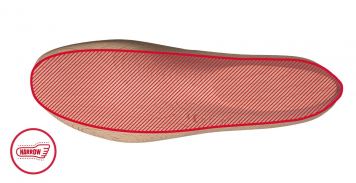 HANWAG Bunion Fit


The HANWAG Bunion fitting has been specially developed for people with a big toe tilt, also referred to as Hallux Valgus. The special type of walking shoe fitting offers more room for the larger toe joint, which prevents any pressure being placed on the big toe and withing it having to stiffen.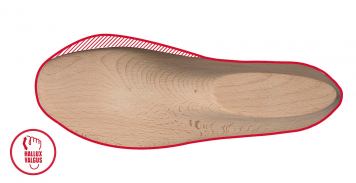 Men or women?
A selection from our HANWAG collection: