Fjällräven Brand
Fjällräven Brand
History
1960
The story of Fjällräven all began in 1950 when the then 14-year-old Åke Nordin felt that the rucksacks of the time were uncomfortable and did not offer the correct support. He then created a wooden frame and sewed a bag out of strong cotton onto the frame and created a bag that evenly distributed the weight and created better ventilation. This was the start of the Fjällraven company that was founded ten years later.In 1960, Åke Nordin registered his company. The first backpacks with aluminium frames were created in the cellar of his one-room flat. Gradually the condensation-free, lightweight tents, functional outdoor clothing and revolutionary sleeping bags were produced, further loved by outdoor enthusiasts.
1968
In 1968, Fjällräven designed a special jacket in co-operation with members of the Greenland Expedition of 1966. The material was originally for a lightweight tent, however the homemade jacket soon became popular with mountain climbers and people of the outdoors for it durability and practicality. The Greenland Jacket is still a classic today.
1978
In 1978, Fjällräven designed a rucksack that is still seen today as one of Fjällräven's most iconic products. The Kånken rucksack is a durable, lightweight rucksack that prevents back pain when using it due to its design.
Today
Today, Fjällraven has grown into one of the leading companies in the outdoor product market. Fjällraven's products are durable, timeless and comfortable to use. Fjällraven develops its products with love and respect for nature and the human body which is clearly reflected in every aspect of each product. Feel free to take a look at the range of rucksacks of the quality Swedish brand.
Durability
"To leave no trace"
"To leave no trace" is a well-known motto among many outdoor lovers, meaning you leave no trace of yourself when travelling; you leave nature as clean as you found it. Fjällräven also follows this motto in its business operations and sees it as their responsibility to leave as small as ecological footprint as possible.

Fjällräven actively protects people, animals and nature. The company is constantly working to improve its processes to reduce the consumption of water, energy and chemicals. The company also believes that longer-lasting products are better for the environment than products that are already out of fashion after one season. Therefore when developing the products, extra attention is paid to create a timeless design.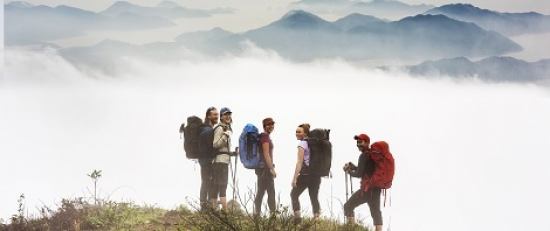 The Kånken rucksack from Fjällräven is by far the most popular product that Fjällräven sells. The rucksack was designed in collaboration with the Swedish Scouts and Guides Association in the late 1970s to prevent back problems within students. The Kånken is a durable, lightweight rucksack that offers plenty of room for storing all school supplies.

The Kånken backpack is available in countless colours and a number of sizes, with variants that are suitable to store a laptop. Fjällräven has also put a special Re-Kånken rucksack on the market which is completely made of recycled material such as old plastic bottles.
Fjällräven Technology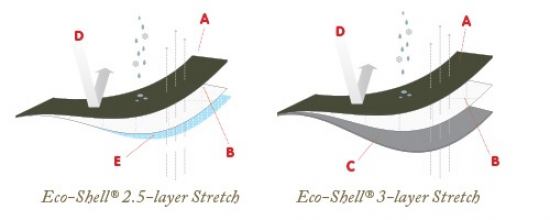 G-1000
G-1000 is Fjällräven's own durable fabric and has the ability to be used in almost all climates. This is because the fabric has been treated with the special Fjällräven Greenland Wax. Below you will read more about this maintenance tool and how to treat your own clothes yourself.

The G-1000 is lightweight and very resistant to wear, ideal for when you plan to wear the clothing during outdoor adventures. The combination of the Greenland Wax with the fabric also ensures that the fabric is water repellent and windproof. G-1000 clothing is therefore very suitable for wearing during small rain showers. The highly breathable material is also an important feature of the G-1000 fabric which ensures that the clothing is ideal for wearing during strenuous activities. Finally, the G-1000 provides protection against UV radiation and mosquitoes or other flying insects. In short, the perfect fabric for an outdoor trip!
Eco-Shell
Eco-Shell is a material developed by Fjällräven, which provides complete protection against heavy and wet weather. Eco-Shell clothing has an outer layer of recycled polyester that has been treated without using fluorocarbons, thereby having an inner polyester resin that is easy to recycle.

The outer layer of the recycled polyester causes rain, snow and water from the outer fabric to be shed. The membrane ensures that no moisture comes in from outside, while the inner moisture (transpiration) is fed directly to the outer layer of the fabric. Here, the perspiration fluid can be evaporated and this ensures optimum temperature control. The windproof outer fabric finally prevents cold wind from getting through the material. With Fjällräven's Eco-Shell technology, you can keep warm and dry even during cold and wet weather conditions!
Maintenance
Fjällräven Greenland Wax
What is Fjällräven Greenland Wax?
The Greenland Wax from Fjällräven makes it easy for you to make your garments with the G-1000 technology to various weather conditions. This will make your clothes resistant to weather and wind by putting the wax on your clothes. The more wax you use, the stronger your clothing is resistant to weather. If you wax it out then you will get a cooler garment with optimal breathable feel. The Greenland Wax from Fjällräven also ensures that the G-1000 fabric becomes water and dirt repellent and also extends the durability of your clothes. Note: after 2-3 washings it is wise to re-apply the wax.

How do I put the wax on my clothes?
Step 1: Apply the Greenland wax by rubbing over the fabric of your clothes extensively. Make sure that you treat all parts of the fabric.

Step 2: Melt the wax through an iron (on a low heat!) into your clothes. You can also use a hairdryer or camping burner. Repeat this procedure a number of times if you want to make the clothing even more water-repellent.

Want to know more about Fjällräven Greenland Wax?
A selection from the Fjällräven collection: